How to Get Started with Video Reviews: A Comprehensive Guide
Gilles
We can't imagine a world without screens anymore. On average, humans spend about 7 hours a day looking at a screen and our youngest generations like Gen Z avere about 9 hours a day!
What we look at in those screens has also changed. We've migrated from text content to video content, from long content to short and "snackable" content. Think Tik Tok, but also the average length of a news article or your favourite movie. Some scientists even claim that our attention span with 8.25seconds is now shorter than that of a Goldfish!
The power of short video content
With these studies in mind, it's clear that your content strategy needs to change too. Instead of long form content, e-books or webinars it's important to have quick and convincing video content to catch and retain the users attention.
People buy from People
With phone in hand, we all have access to the internet to get advice, look up reviews or compare prices at the tip of our fingers. Why should you trust an in-store salesperson that benefits of your purchase? The easy access to customer testimonials, customer reviews and searchability have made customers better informed than ever before.
The types of video reviews
Now that we know that people love short video content and prefer advice from a peer then from a salesperson we can start looking into the different types of video reviews:
Testimonial Videos: These are direct endorsements from satisfied customers. They are powerful because they showcase real users sharing positive experiences with your product or service.
Unboxing Videos: These videos capture the excitement of opening a new product. They provide a firsthand look at what customers can expect when they purchase your product.
Tutorial Videos: These videos demonstrate how to use a product or service. They are educational and can help customers understand the value of your offering.
Review Videos: These are comprehensive reviews that discuss the pros and cons of a product or service. They are typically more detailed and analytical.
Each type of video review serves a different purpose, and the best choice depends on your business goals and the nature of your product or service.
How to start collecting video reviews
In this guide we'll take our own software as an example. It is the best way to offer a pleasant user experience for your customers, as well as keeping it easy and affordable for you as a business owner to manage and display this user generated content.
1. Create a testimonial collection page
First, we need to create a landing page for our customers to leave their reviews. If you use SocialJuice, your landingpage is automatically generated for you and customizable to your liking.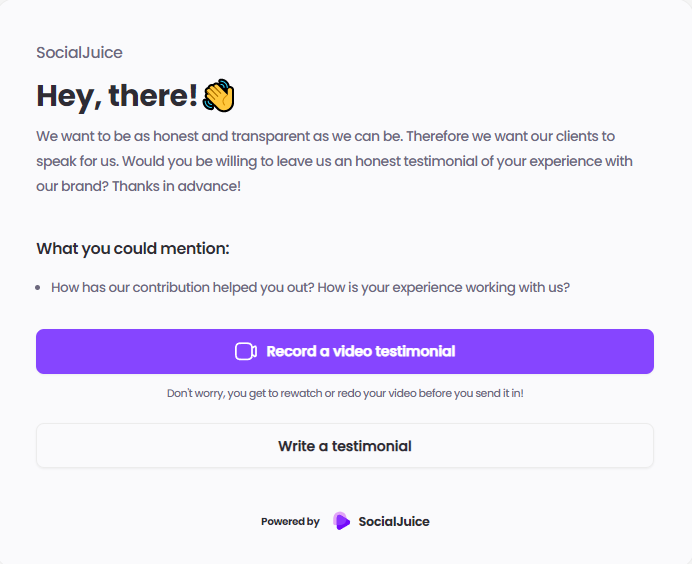 2. Direct your customers to your landing page
Now that you have a place to collect testimonials, it's time to send traffic to the collection page.
We have detailed guides on the best ways to ask for customer testimonials, so in this guide we will only highlight the places that you can ask for a testimonial:
At the end of a client contact
through an e-mailcampaign to your customer base
A QR code in your physical location or in a brochure
3. Decide which reviews to show
Not all reviews are equal. We believe to remain authentic, we shouldn't provide scripts to the customers or pay them for their reviews. Instead, go through your received reviews and select a top 3 that highlights your companies USPs from people that are 100% your ideal customer profile.
The importance here is that the testimonials are relatable, authentic and highlight the advantages of working with or purchasing from your business.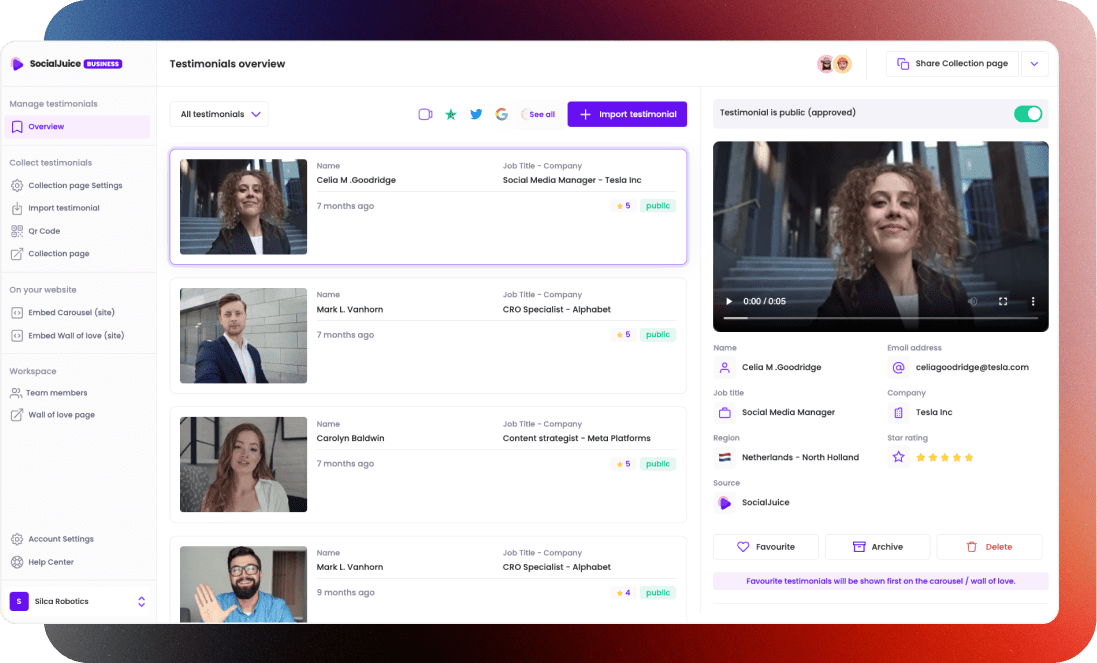 4. Displaying the testimonials
We advise to get these testimonials out there to as many places as possible. The best places to show your testimonials will be:
Your website: Either on a separate "testimonial" page or your homepage.
Your social media pages: If you can't embed the widget, use the link to the wall of love instead.
Inside e-mails: Use the link to your wall of love.
On Youtube / In ads: With most software you can easily download the reviews as a video file and upload them on different platforms.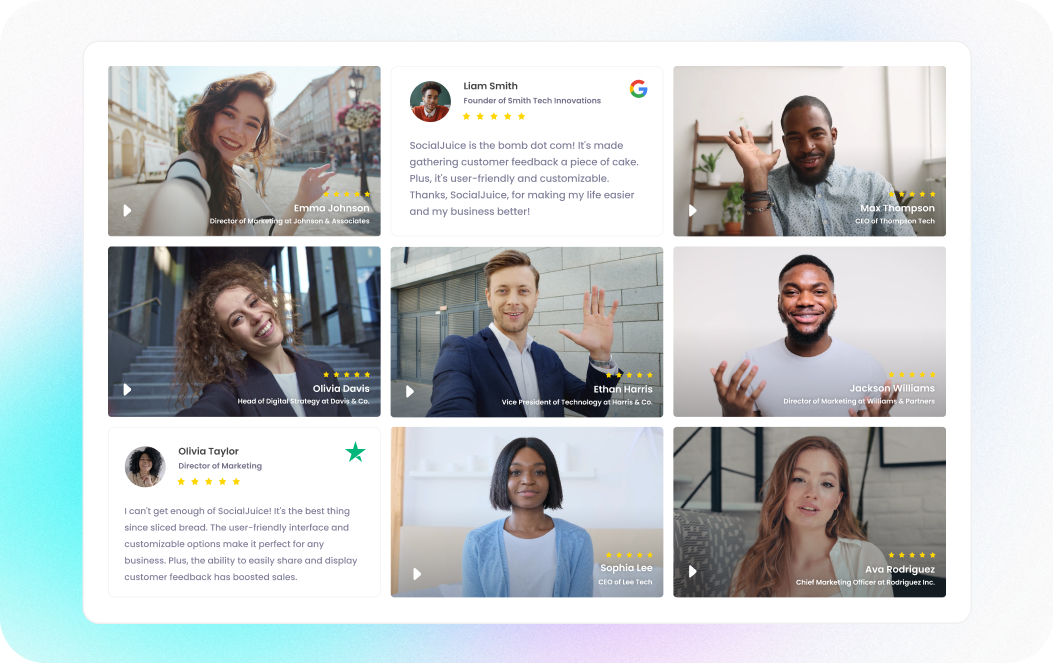 If you're using SocialJuice, there are plenty of lay-outs to choose from. You don't need to be a developer or a marketeer to implement these widgets on websites like Wordpress, Wix, Squarespace, Webflow, Shopify, ...
Final Advice on successful video reviews
Creating successful video reviews requires some planning and strategy. Here are some tips to ensure your video reviews are effective:
Encourage Authenticity: The best video reviews are genuine and heartfelt. Encourage your customers to share their honest experiences and feelings about your product or service.
Provide Guidelines: While you want the review to be authentic, providing some guidelines can help your customers structure their reviews. You might suggest they talk about why they chose your product, how they use it, and what they like about it.
Keep it Short and Sweet: Video reviews should be concise and to the point. Aim for reviews that are 30 to 60 seconds long.
Quality Matters: While you don't need a professional video, ensure the video is clear, the audio is audible, and the lighting is good.
We hope this guide will get you started to leverage the power of social proof. If you have any questions or would like to start using SocialJuice.io, let us know through the chat! We're here to help.