| | Endorsal | SocialJuice |
| --- | --- | --- |
| Montly website visitors | 0 - 2,500 | Unlimited |
| Customers | 0 - 500 | Unlimited |
| Video testimonials | 10 | Unlimited |
| Video Quality | 480p SD video quality | 1080p HD video quality |
Lowest paid tiers are compared.
Key takeaways:
Enodorsal puts limits based on customers as well as monthly visitors, which SocialJuice does not.

Endorsal can look dated and can look off on your website.
Collect & import
Effortless Testimonial Collection
Collect testimonials easily with customizable forms: Our platform makes it simple to collect high-quality video testimonials from your clients, without the friction and hassle of traditional methods.
Learn more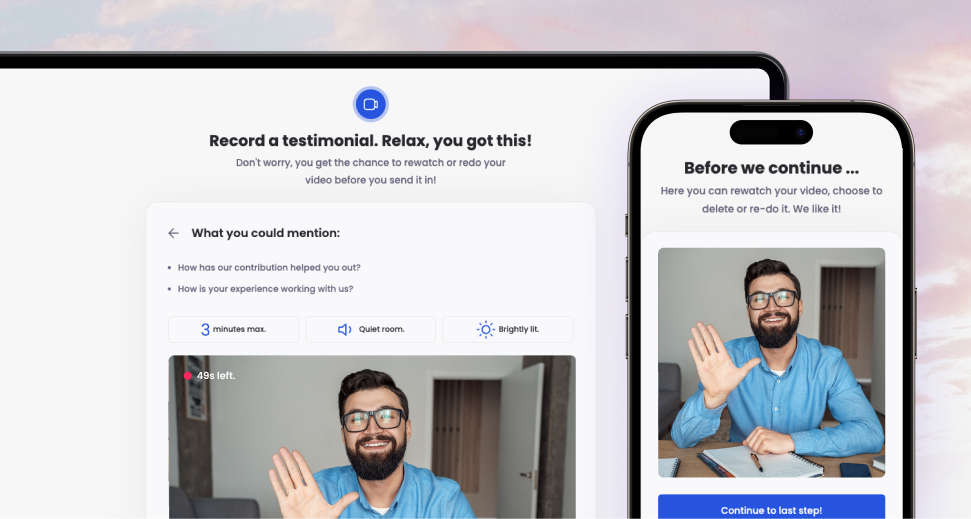 Manage
Management and Organization
Manage and organize your testimonials: With our platform, you can easily sort, filter, and search through your testimonials to find the ones that are most relevant to your needs.
Learn more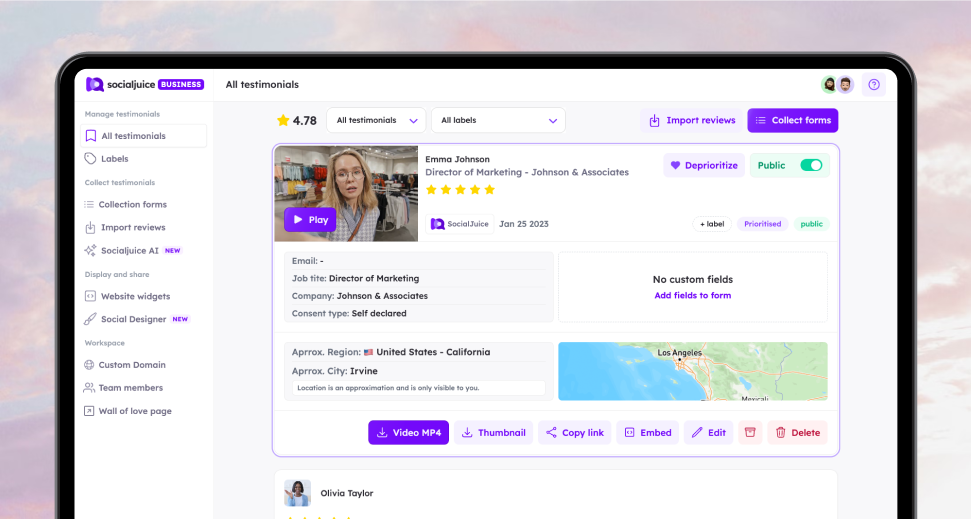 Display and share
Customizable Widgets & Social sharing
Create beautiful and engaging widgets to display your testimonials on your website. Our widgets are fully customizable, so you can easily match the look and feel of your website. Plus, our widgets are mobile-responsive, so they will look great on any device.
Learn more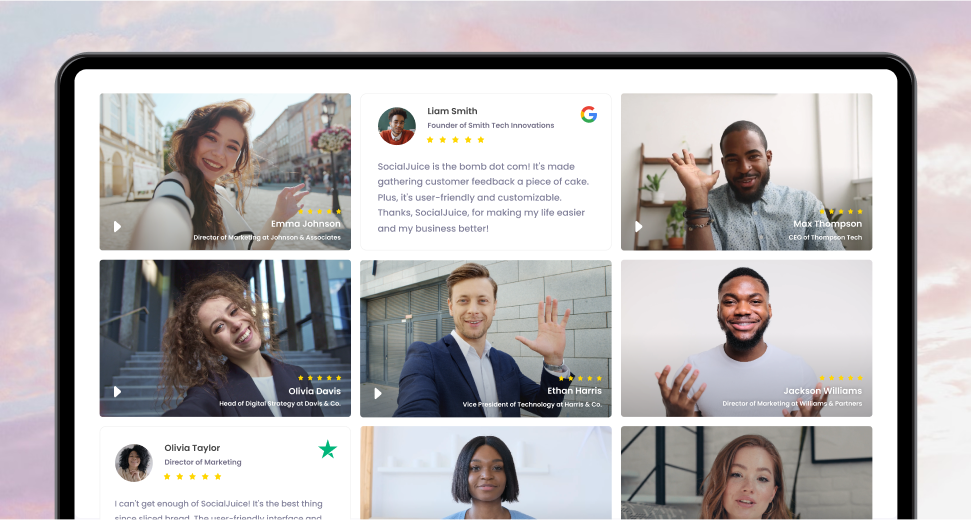 (Or your competitors will)
Get testimonials on your site and socials
Win trust, win clients.
Getting the widget on your website is simple - just copy and paste a snippet.
Our team is here to help if you
need assistance
Get started for free!
Wordpress

Webflow

Wix

Squarespace

Shopify

Kajabi

Bubble

Woocommerce

Notion

Typedream

This is made using socialjuice!
Try it first using our example snippet
Copy the snippet and paste it in your website builder, or code.
<iframe

id

=

"socialjuice-wall-7-socialjuice"

title

=

"socialjuice-wall-7-socialjuice"

src

=

"https://embed.socialjuice.io/wall/7?s=socialjuice"

allowtransparency

=

"true"

width

=

"100%"

height

=

"1200px"

></iframe>
Video testimonials of our clients,
prove
why you need them from yours